Events @ the Library
S
M
Tu
W
Th
F
S
1
2
3

http://fairviewoklibrary.org/?ecwd_event=closed-for-labor-day

The Fairview City Library

will be closed

Monday, September 3, 2018, 

in honor of Labor Day.

4

http://fairviewoklibrary.org/?ecwd_event=fall-coloring-contest-deadline

What: Fall Coloring Contest

Who: Children ages 2 – 10

Where: Fairview City Library

When: Starts Tues., Sept. 4th

               Ends Friday, Sept. 28th

Come by the Library Sept. 4th

and pick up your color pages!

http://fairviewoklibrary.org/?ecwd_event=preschool-story-time-5

What: Preschool Story Time
Who: Preschool age kids & their parents & sibilings
When: Tuesdays at 10:00am
Where: Here at the Library
We read a book do a craft and have a snack!
Come join the fun!

5
6
7
8
9
10
11

http://fairviewoklibrary.org/?ecwd_event=preschool-story-time-6

What: Preschool Story Time

Who: Preschool age kids & their parents & sibilings

When: Tuesdays at 10:00am

Where: Here at the Library

We read a book do a craft and have a snack!

Come join the fun!

12
13
14
15
16
17
18

http://fairviewoklibrary.org/?ecwd_event=preschool-story-time-7

What: Preschool Story Time

Who: Preschool age kids & their parents & sibilings

When: Tuesdays at 10:00am

Where: Here at the Library

We read a book do a craft and have a snack!

Come join the fun!

19
20

http://fairviewoklibrary.org/?ecwd_event=library-board-meeting

The Fairview City Library Board

will be meeting

Thursday, September 20, 2018,

at 4:00pm here at the Library.

The public is welcomed and

encouraged to attend.

21
22
23
24
25

http://fairviewoklibrary.org/?ecwd_event=preschool-story-time-8

What: Preschool Story Time

Who: Preschool age kids & their parents & sibilings

When: Tuesdays at 10:00am

Where: Here at the Library

We read a book do a craft and have a snack!

Come join the fun!

26
27
28

http://fairviewoklibrary.org/?ecwd_event=preparation-for-book-bake-sale

The Friends of the Library will be preparing for their annual Book & Bake Sale the morning of Friday, September 28, 2018.  Please contact Library Staff for more information about helping out. (580)-227-2190

29

http://fairviewoklibrary.org/?ecwd_event=fol-book-bake-sale

What: Friends of the Library Book & Bake Sale

When: Saturday, September 29, 2018

8:00am to 2:00pm

Where: American Legion Building

6th & Central, Fairview

Who: Anyone who loves books & homemade goods!

Come on and check out all the great books and baked goods

available!

30
     The Fairview City Library has a lot of great family programming going on, and most all of them are free!  Come on over and join us sometime!

NOTICE: The Library does take pictures and/or recordings of programs and performances that may be used on social media sites, library or city websites, or on published promotional material. Please let staff know ahead of time if you do not want your child recorded.
Please let Library staff know ahead of time if your child has food allergies, other allergies, or health concerns. If your child may require additional supervision, please make plans to attend with your child, or have a trusted adult attend with them.
SEPTEMBER
Weekly Preschool Story Time
Tuesdays, 10:00am
September 4th, 11th, 18th, 25th
@Library
Closed for Labor Day
Monday, September 3, 2018
Library Board Meeting
Thursday, Sept. 20, 2018,
4:00pm
@Library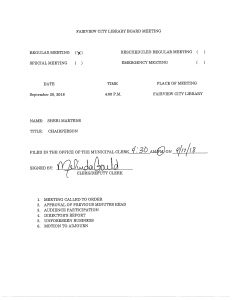 Friends of the Library Book & Bake Sale
Saturday, September 29, 2018
8:00am to 2:00pm
@American Legion Building on
6th & Central, Fairview
Help the Friends prepare for the Book & Bake Sale
Friday, September 28, 2018
@American Legion Building on
6th & Central, Fairview
In the morning - call the Library and ask for details!
(580)-227-2190